Recipes

Desserts
Return to top
Dinosaur Egg Ice with Sliced White Peaches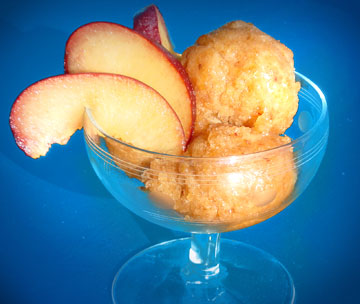 Ingredients - Serves 8

1 1/2 cups cold water
1 cup sugar
1 cinnamon stick (optional)
1 vanilla bean, split lengthwise
3 lbs Dinosaur Eggs (about 14 large), pitted and cut in to 3/4 inch chunks
2 Kingsburg Orchards white peaches
2 Tablespoons lemon juice
Directions
Combine water, sugar, and cinnamon stick in a large pot. Scrape the seeds from the vanilla bean into the pot and then add the pod. Bring to a boil and cook, stirring, until the sugar dissolves. Lower the heat and simmer until the liquid is reduced to 3/4 cup, about 8 minutes. Remove from heat and let cool.



Puree Dinosaur Egg chunks (in 2 batches) in a food processor. Press the puree through a sieve into a bowl until you have 3 cups.



Strain the sugar syrup into the puree and blend well. Pour the mixture into two 9 x 5-inch glass loaf pans.



Freeze the Dinosaur Egg mixture, stirring every 30 minutes until flaky crystals form, about 4 hours. Or, freeze in an electric ice cream maker according to the manufacturer's instructions. Can be made up to 1 week ahead and stored covered and frozen.



Thinly slice peaches and sprinkle with lemon juice.



To serve, spoon the Dinosaur Egg Ice into 8 glass goblets. Top with sliced peaches.


Quick Snacks
Return to top
Fruit Salsa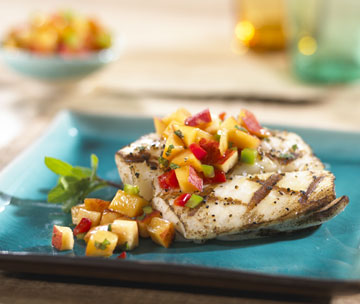 Ingredients

3-4 Dinosaur Brand Pluots, pitted and finely diced
2 Kingsburg Orchards Apple Pears, pitted and finely diced
1 medium red onion, finely chopped
1/2 to 1 jalapeno pepper, finely chopped
1/4 cup chopped cilantro
Juice of 1 lime
Salt to taste
Directions
Combine ingredients in a medium bowl and serve with tortilla chips or over grilled fish. May be made a day ahead.



Submit a recipe
Return to top
Do you have a nack for making delicious and healthy recipes?
Submit your recipe ideas and we will post them on our website.

Healthier Choices
Return to top
Want to find more Recipes?
Fresh Recipes from California
---