News & History
Want to know how we are doing or how we got here? You came to the right place.
Announcements
Return to top
New Website
June 15, 2009, Kingsburg Orchards


As you can tell, we have been working on making a functional, informative website for parents and teachers and a fun, educational website for the kids. If you haven't seen what's in store for your kids, please check out the kids site
---
Dinosaur Nest are at a Grocery store near you
June 15, 2009, Kingsburg Orchards
Be on a look out for Dinosaur Egg Nest located near the produce aisle at your nearest grocery store. they have been known to attract attention and carry delicious fruit.
The image below is a composite render of these beautiful nest.



Related News
Return to top
Plums poised to give blueberries run for the money - 2009:
Plums are rolling down the food fashion runway sporting newly discovered high levels of healthy nutrients, say scientists at Texas AgriLife Research...

History
Return to top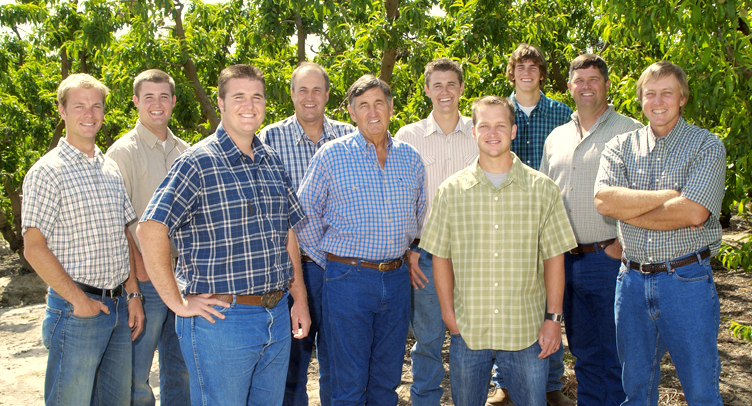 Who grows Dinosaur Eggs?
The Jackson family began farming in England in 1813, eventually bringing their legacy across the Atlantic, first to Tennessee, then to California. That family farming tradition is alive and well today at Kingsburg Orchards. They are the largest Family Owned grower, packer and shipper of fresh fruit in California's fertile San Joaquin Valley. George, his sons Mike and Brent, his son-in-law John Diepersloot, and his grandsons: Ryan, Matt, Greg, and Jake, along with his grandsons-in-law Brody and Cody, are all growers for the company.
Despite its long history and significant size, Kingsburg Orchards is able to adapt quickly to meet the demands of today's sophisticated consumer. As a result, the company is considered an industry leader in the production of such unique varieties as Asian apple pears, white flesh peaches, white flesh nectarines, pluots and apriums.
Kingsburg Orchards invests heavily in its own exclusive nursery program – a program that focuses on creating new proprietary varieties, perfecting plant husbandry and improving orchard management. All to grow consistently great eating, superior looking, long-lasting fruit. There are currently over 50 different varieties of Dinosaur Egg pluots grown exclusively by Kingsburg Orchards.
Still family-owned and operated, Kingsburg Orchards grows more than 200 fruit varieties on over 8,000 acres, and packing over 8 million cases of fresh fruit each season.

Get to know our Grower, Mike Jackson & family

Videos
Return to top
Kingsburg Orchards: Across the Orchard
A visual tour through Kingsburg Orchard highlighting the people and produce that makes us one of a kind.
> Play Video | click images to view screen caps

---